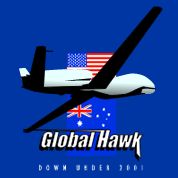 (Click on logo for detailed Australian web site)
(See beginning photos at bottom of page)
I returned from a 51 day (24 Apr - 13 June 2001) deployment to Adelaide, South Australia, with my company, Northrop Grumman/ Ryan Aeronautical Center (NG/RAC), in collaboration with the United States Air Force (USAF), Royal Australian Air Force (RAAF) and Defence Science and Technology Organisation (DSTO) of Australia.

Global Hawk is the world's most advanced high-altitude, long-endurance, unmanned aerial vehicle and holds the World Record of 31 1/2 hours for unmanned flight with over 1000 total flight hours with four operational aircraft.

Global Hawk is a single engine jet-powered aircraft with a wingspan of 116ft, equivalent in wing size to a Boeing 737 commercial airliner. It has a range of 14,000 nautical miles and can fly at altitudes of up to 65,000 feet for more than 35 hours.

Australia and the United States are collaborating to evaluate and further develop Global Hawk as an airborne surveillance system. On 22 April 2001, Global Hawk (ship AV-05) flew non-stop from Edwards AFB, California to Edinburgh RAAF Base, South Australia, where it was based for nearly two months undergoing a series of demonstration flights. Global Hawk, AV-05, returned to Edwards Air Force Base, California on 7 June 2001.

The record breaking flight by Global Hawk was the first non-stop crossing of the Pacific Ocean and the longest point-to-point journey ever undertaken by an unmanned aircraft, a total distance of 8,650 miles (13,840 km).

Global Hawk, departed Edwards Air Force Base at 4.48 am California time (9.18 pm Adelaide time) on 22 April 2001 and arrived at RAAF Base Edinburgh 23 hours and 23 minutes later at 8.41 pm (Adelaide time) on 23 April 2001 after crossing the International Date Line.

The Global Hawk was monitored and controlled during the entire flight by mission controllers with the United States Air Force, the Royal Australian Air Force and Defence Science and Technology Organisation on the ground at RAAF Base Edinburgh.

Global Hawk (AV-05) was renamed "Southern Cross II" in honor of the first manned trans-Pacific flight by Sir Charles Kingsford-Smith, Charles Ulm and their American crew members, James Warner and Harry Lyon in 1928. Their aircraft was named, "Southern Cross." A replica of the original aircraft was built and is in operation today and was on-hand during the deployment. (A Kodak moment)

During the deployment, I took some 350 digital photos and collected at least that many more from other sources. These pages have been created to share some of those photos. They include people, places and the successful deployment of Global Hawk. I was fortunate that my wife (Lorraine) and one of my daughters (Kathy) was able to join me for a short period during the deployment. Our adventure to Adelaide was outstanding in every way. The country is fantastic, the people are wonderful, and we completed our mission.

Notice: All of the photos depicted herein were taken in public & in open to the public situations and are not restricted for publication in any way by government regulations. If your personal photograph is depicted herein and you would like it removed, just notify me of the filename and I will remove it.